We'll see her here, we'll see her there, we'll see her everywhere… come 2013! From North Sea to Southern Mediterranean, Belem will be unfurling her 22 sails in a spectacular series of 22 training trips and 7 major maritime events all along her next sailing season. You couldn't miss her if you tried!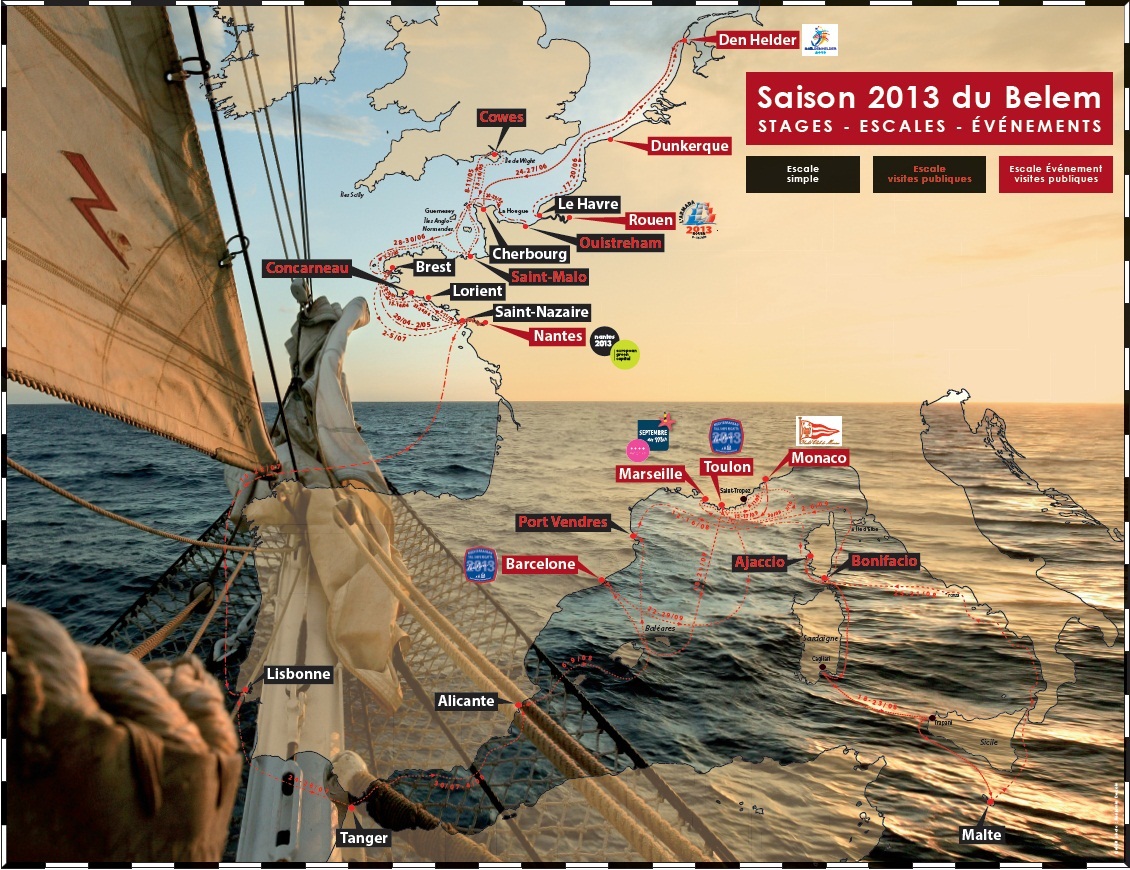 Starting as usual in April from her home town of Nantes, our valiant three master will begin with 14 training trips along the coast of Brittany, Normandy and Great Britain, including several island hops like Groix, Belle Ile, Houat, Hoëdic, the Channel Islands and, last but certainly not least, the Isle of Wight where memories of the many years she spent as a British ship under the auspices of the Royal Yacht Squadron now bring her back regularly to be greeted by her friends in Cowes. In between trips, Belem will be guest of honour at three major sailing events: "L'escale à Dunkerque", the 6th "Armada de la Liberté" in Rouen and, in the North of the Netherlands, the "Sail Den Helder" celebrating the 525th anniversary of the Royal Dutch Fleet. Ideal occasions for greeting visitors galore!
In July, Belem will start her voyage south, which will take her first around the Spanish peninsula, with stopovers in Portugal (Lisbon), Morocco (Tangiers) and Spain (Alicante). August will be given over to another series of island visits: Balearic Islands, Ile du Levant, Corsica… Then, in August, a succession of two unique trips: the first will have Belem sailing from Ajaccio in Corsica to Malta via the western coast of Sicily ; then the return trip, from Malta to Bonifacio will be via the Strait of Messina and the volcanic island of Ponza with, hopefully, interesting sightings of sea mammals…
Then again, in September, Belem will be taking part in several maritime events such as "Septembre en Mer" in Marseilles, the "Monaco Classic Week", and finally the "Mediterranean Tall Ships Regatta" from Toulon to Barcelona, in which our dame of the se a will actually be a competitor… not bad, huh, for a 117 year old sailing ship! And after all that, Belem will be arriving at Saint Tropez in time for the festivities of the "Voiles de Saint Tropez".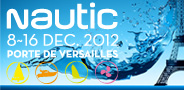 In the meantime, those of you who have decided to hop over to Paris for a spot of Christmas shopping might find the time for a visit to the Boat Show held here from December 8th to 16th: make a bee line for the Belem Stand (Hall 1, lane N, Stand 89) to meet the – very friendly - crowd from the Belem Foundation, including members of the crew, pick up the Belem's 2013 sailing programme and (Christmas, remember?) discover the best bargains in gifts at the Belem Boutique.
And if you really can't make it Cross Channel-wise, not to worry: you will find all this and more on our website www.fondationbelem.com or on Facebook.
And a very Merry Christmas and Happy New Year from all of us at the Belem Foundation!